You might be shocked to discover that the much revered jollof rice which has generated debates, both online and offline between Ghanaians and Nigerians actually belong to neither countries. (I find this piece interesting though grin)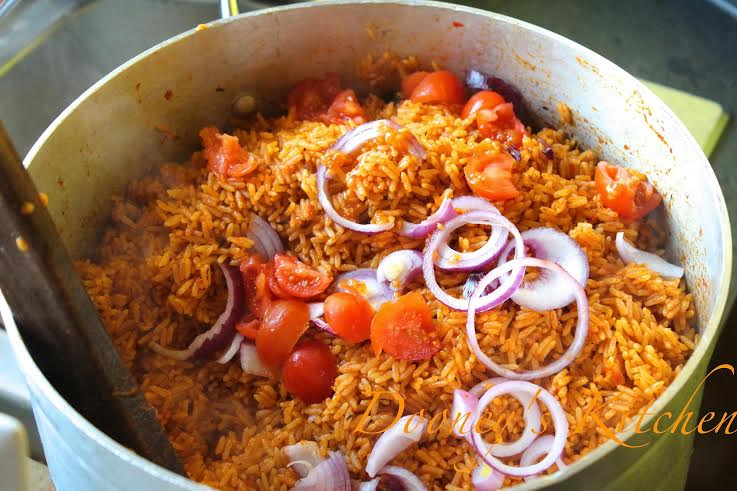 Jollof rice is one of the most common dishes in Western Africa, consumed throughout the region including Senegal, Gambia, Nigeria, Sierra Leone, Liberia, Togo, Cameroon, Mali and Ghana. There are several regional variations in name and ingredients, with non-local versions regarded as "inauthentic". The name Jollof rice derives from the name of the Wolof people, though now called theibou dienn or benachin. In French-speaking areas, it is called riz au gras. Despite the variations, the dish is "mutually intelligible" across the region, and has spread along with the diaspora to become the best known African dish outside the continent.
The points of origin of the dish are mostly debated among Ghanaians and Nigerians, since both countries claim to be the origin of jollof rice. Jollof rice is typically seen as a culturally sensitive issue between Nigerians and Ghanaians. Based on its name, the origins of Jollof rice can be traced to the Senegambian region that was ruled by the Jolof Empire. Food and agriculture historian James C. McCann considers this claim plausible given the popularity of rice in the upper Niger valley, but considers it unlikely that the dish could have spread from Senegal to its current range since such a diffusion is not seen in "linguistic, historical or political patterns". Instead he proposes that the dish spread with the Mali empire, especially the Djula tradespeople who dispersed widely to the regional commercial and urban centers, taking with them economic arts of "blacksmithing, small-scale marketing, and rice agronomy" as well as the religion of Islam.
https://en.wikipedia.org/wiki/Jollof_rice